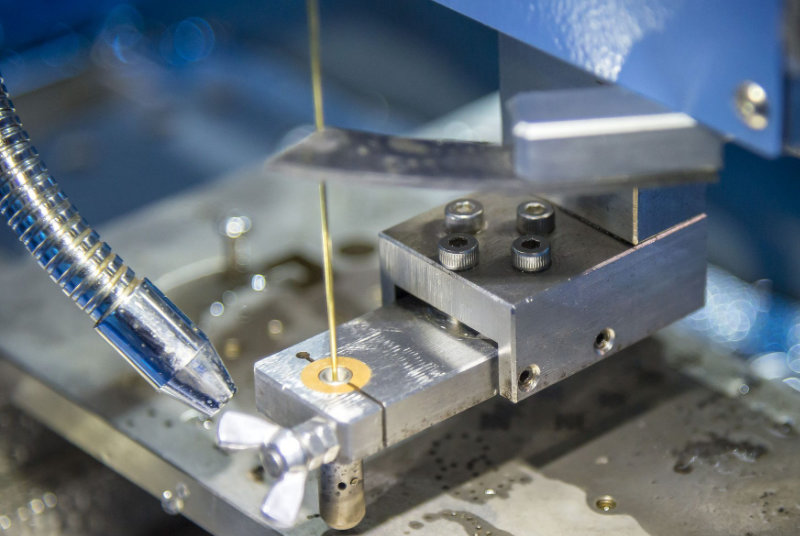 Ideal Tool & Manufacturing has Wire & Sinker EDM Capacity to meet your production needs.
Wire EDM—also known as Wire Cutting, Wire burning, and Traveling Wire EDM—uses spark erosion to machine or remove material with a traveling wire electrode from any electrically conductive material.
The wire electrode usually consists of brass or zinc-coated brass material.
Ideal Tool & Manufacturing Wire EDM machines are fully automated and operate 24 hours/day, seven days a week. We maximize cutting edge technology for ultimate results:
High-speed Wire EDM machines with automatic threading

Four Axis independent UV machining

Maximum Taper Angle: 45 Degrees

Maximum Cutting Height: 16.5″ Tall

Wire Diameters from .002″-.010″

Tolerances can be held to .0001″

Best Wire EDM Finish in Tool Steel/Carbide: 4 Micro-Inch

Best Wire EDM Finish in Aluminum: 6 Micro-Inch

Any conductive material can be Wire EDM machined, including Aluminum, Brass, Carbide, Copper, Hastalloy, Inconel, Steel, Stellite, and Titanium.
Ideal Tool & Manufacturing uses Esprit 2010 CAM by DP Technology for our Wire EDM programming systems. We can accept dxf, dwg, iges, Parasolid, Solidworks, Solid Edge, ProEngineer, and Catia files for easy generation into Wire EDM programs.
Need help with YOUR precision machining solutions?